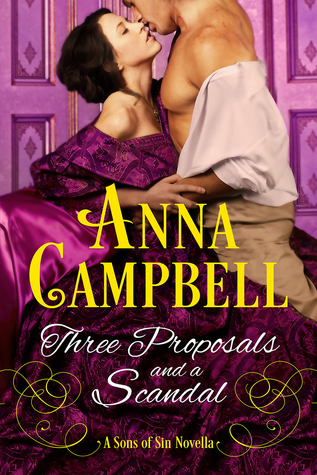 Three Proposals and a Scandal (novella)
Sons of Sin #4.5
Anna Campbell
Historical Romance
Published in 2015
H/h - Elias Thorne, Baron Wilmot/Lady Marianne Seaton
Setting: England, 1829.
Read in September, 2015.
My rating:
[spoiler alert]

Three Proposals and A Scandal is Anna Campbell's latest in her Sons of Sin series. It's a series I have mixed feelings about. While I liked some of the installments, others proved to be utterly disappointing. This short, surprise novella proved to be the former.

I'd say it'd be great if you read the series in order to be introduced to the characters that were featured in this novella, especially book 3, What a Duke Dares. The original Sons of Sin, 3 childhood best friends Jonas, Richard and Cam, are not directly a part but Jonas, his wife Sidonie, Richard and his wife Genevieve played their roles accordingly as the story was largely set in Jonas's country estate.

Our hero, Elias and heroine, Marianne were introduced in book 3, Cam and Penelope's story as secondary characters. Elias is Penelope's younger brother, the current baron Wilmot after the passing of their elder brother, Peter, who was also Cam's good friend. Marianne, on the other hand, was engaged to Cam for a while; an arranged affair where no love was lost between the two.
When Penelope and Cam finally wed, with Marianne's blessings, she's left jilted. She saw they were in love and couldn't think of standing in their way. Though Marianne wasn't in love with Cam, and he with her, the incident left a negative mark on her; both socially and emotionally. She's known for being rigorously 'proper' in everything; all correct poise and grace. An utterly biddable daughter ready to marry where her father wants her to. Cool and calm, no strong show of feelings which also earned her the title of a cold fish. Now she was known as the the Duke's jilt or some such thing. But as it happens, Elias Throne saw through Marianne's cool and collected demeanor no matter what. He knew it to be her armor against all the gossip and hurt. And Elias really wanted to unravel the woman inside...
If you've read book 3, you'll know much about the notorious Thornes; Elias, Penelope and Harry's family. The Thornes are always mired with scandals, be it financial or the female kind. Scandal is their middle name, thanks to their ancestors right down to their own pater! Peter was a gambler and wasted away the family money, then up and died in France. Penelope escaped to the continent, alone, a long ago to avoid their parents resulting in the ruin of her own reputation, while Harry, the youngest, it seemed was well on his way to keep the 'family tradition' of a lazy womanizer. Elias wasn't a big part of book 3 so I had no clear idea of him.
But the thing about The Thornes is that they are also extremely passionate in whatever they do. And when they fall in love, they just do. There's no turning back for them. Harry, the aimless rake, becomes a devoted lover the moment he meets, Sophie, who is also James Fairbrother, Lord Leath's sister, having a second romance alongside Cam and Penelope. Sophie was engaged to quite an older man, Lord Desborough, courtesy her brother who was politically ambitious, his next target to become the Prime Minister. Desborough was a political ally but after Sophie's elopement with Harry, things certainly change for James.
Marianne then, somehow finds herself engaged to... yah, Lord Desborough, who seems to have a penchant for women 20yrs. younger than himself. When I found this out, I even went and said 'not again Desborough... another jilt?!' I had kinda forgotten about Elias until I started reading this novella and was like, OMG Pen's other brother and Marianne?!, because you see I had this brief vision of them being together while I was reading book 3. There was something, however short, that made me think of it. I knew Marianne to be a nice lady who deserved her own HEA, though wasn't expecting she actually would have her own story.
Like his ancestors (and his siblings), Elias is also very passionate. And this time he was consumed by his love for Lady Marianne. He has never been a rake like Harry but no other woman has ever grabbed his attention like his lovely Marianne. Much like Harry did with Sophie, Elias fell in love with her the moment he saw her at a ball. At that time, she was still engaged to Cam. However, after it was broken, they had this brief time getting to know each-other (not in the biblical sense, mind you) at another house party. Something happened, then Marianne's ambitious father convinced her that Elias was a rogue and a fortune hunter and should be avoided at all cost! The heat was there, the attraction palpable, yet she distanced herself after this.
Needless to say, not knowing what went wrong, her behavior left Elias a bit flabbergasted. But he promptly had a guess as to who could be behind all these. Lord Seaton is a pompous a$$ whose affection is measured only by the depth of his daughter's biddableness. After all, being his only child, it's her 'duty' to uphold the Seaton name! And Lord Seaton won't allow a good-for-nothing, almost penniless son of a scandalous family anywhere near his 'precious Marianne' when rich, influential men like Desborough is available. It doesn't matter that Elias is also titled, certainly doesn't matter that Desborough is closer to Lord Seaton's own age!
Marianne has all but given up the hope of ever having a love match, you can only assume why. She doesn't want to hurt her father. But she also can't deny the fact that she's immensely attracted to Elias. She felt duped that he'd also see her as a pawn to better his financial trouble, not really grabbing her father's ulterior motives. So when in the story Elias makes a few attempts to convince Marianne that his regards for her is genuine, she's rather rude with him, wanting him to go away. I know quite a few people had a problem with her attitude but I only saw vulnerabilities; low self-esteem stemming from years of being under the thumb of an autocratic father. Because she was SO attracted to Elias, Marianne was scared of being hurt again. Only this time, her heart won't survive.
The opportunity presents itself when Seaton, along with Desborough and a few others, is invited to Jonas's estate for business matters. Since Thorne name gave Seaton the hives, Cam and Penelope weren't invited, though we see Richard and Genevieve too. Let me tell you, it felt wonderful to see all of them again! Marianne didn't want to attend but her father won't listen, of course. He saw this as the perfect timing for Desborough to finalize their 'mutual interest'.
Marianne feels trapped but she's resigned to her fate. She wants to get away but doesn't have the courage to do so. If only she could trust Elias, who seemed to be the only person understood her distress...
While Marianne is busy mulling over life's options, Elias finds that all is not lost when he's invited to stay near Jonas's estate. Then Jonas is quite masterfully manipulated by his lovely wife to play the cupid to bring a lovelorn couple together. And with Sidonie's help, Elias finds another chance to convince Marianne, probably the last before Desborough could gain the upper hand. But after his earlier failures, could Elias, this time, succeed in making Marianne believe that his feelings for her is true?
I really liked this novella because it was short and precise, even though I would've liked a few more chapters to know Marianne and Elias better. The 'scandal' was a bit predictable but I was super glad it gave Elias the opening he was looking for to prove Marianne that he's not a fortune hunter. The epilogue was so sweet that it put a big grin on my face. 4 stars.
Before I finish off... Poor Desborough! I wish him luck and a bit of sense too. He never struck me as a bad guy so he deserves a good woman so that he can finally get married. I hope the author has a plan for him. I, for one, would love to meet this woman. ;)