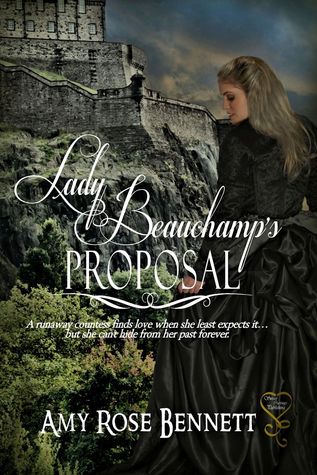 Lady Beauchamp's Proposal
Scandalous Regency Widows #1
Amy Rose Bennett
Historical Romance
Published in 2014 [requested review]
H/h - James,

The Marquess of Rothsburgh/Elizabeth Harcourt, Lady Beauchamp
Setting: London/Scotland, 1815.
Read in Sept, 2014.
My rating:
[spoiler alert]
Amy Rose Bennett was a complete new-to-me author when I found myself hosting a blog tour on Lady Beauchamp's Proposal. It was one of those rare finds where I had no idea what to expect, yet it blew my mind. The storyline was pretty unconventional, as were the twists. I was honestly expecting a been-there-done-that governess storyline but found something much more dark and deep. I loved the author's writing too. So much emotion, with so many heart-tugging moments that I cried, laughed, grinned and sighed all over it!
Elizabeth's marriage was supposed to be a match-made-in-heaven. After all, she was swept away by one of the most sought after bachelors of the season, all golden good-looks and charming smiles. Hugh was her first crush, first love, first lover... and the first man to show her how cruel a man can be, too. Elizabeth, or Beth, was in love but all her hopes were crushed when her 'beloved' husband started showing his true face very soon after their marriage. Not only he cast her aside calling her a 'cold fish' but also, he started breaking every vow he made on their wedding day. He was a known rake before marriage and went back to his former lifestyle with gusto; bad friends plus all sorts of debauchery with gambling, drinking and whoring. Beth learned that she had married a shallow, self-centered piece of a$; sparkly on the outside, empty on the inside.